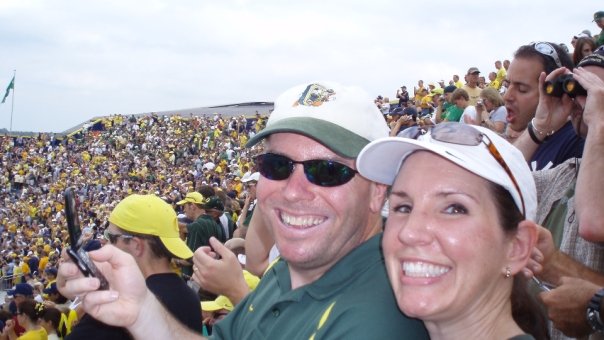 Yes it's true, I'm a huge Oregon Ducks fan. Of course, anyone who knows me very well already knows that as I'm not shy about professing my love for my Ducks.
I've been a huge sports fan throughout my life and growing up in the Bay Area I was very passionate about the San Francisco 49ers and Giants from a very young age. My parents bought family season tickets to UC-Berkeley football games for years so I also was a Cal Bears fan as a kid and have fond memories of attending Pac 8 (and then Pac 10) games – and counting on nearly automatic wins whenever Cal played Oregon or Oregon State (although back then, none of the programs were really very good).
When I arrived at UO in 1985 the Ducks had become a better team than they had been in the 70s and early 80s but were still far from the top tier of the conference. But I quickly became hooked on the team and the program. Even though the stadium was usually half-full (except for UW Huskies games), the fans who did attend were extremely passionate – and fun. It reminded me a lot of going to San Francisco Giants games in the 70s and early 80s when they weren't very good either. You had to be a real fan to show up in crappy weather and scream your lungs out for a team that had only a moderate shot of winning.
What I really liked about the Ducks was that the team – and the fans – didn't take themselves (or the games) very seriously. I mean, how serious and intense can you be when you're cheering for the Ducks? If the Ducks won, it was cause for major celebration and a reason to party. If they lost, then it was "Oh Well – let's go party and forget about it."
And the team was fun to watch. They had improved to the point where they were attracting a decent number of talented players – especially on the offensive side of the ball. Chris Miller was a NFL-caliber QB and they had talented running backs and receivers – so they often could put a lot of points on the board. The defense was usually a little shaky (see WSU's Ruben Mayes' crazy 350+ yard game against the Ducks) so it made for lots of shoot outs.
The Ducks didn't make it to a bowl game while I was a student there – they didn't even have a winning record. But slowly the improvement continued and by 1989 they earned their first invitation to a bowl game since the 1960s from the Independence Bowl. I remember how excited all Ducks fans were at the time – Oregon was actually going to a bowl game! Who cares if it's in Shreveport, Louisiana against Tulsa? The Ducks pulled out an exciting win and were on their way to a new era where bowl invitations were to become more frequent (and these days expected).
My love for the Ducks culminated when my friend Bob and I decided to buy season tickets to Oregon football games following the 1994 Rose Bowl Season. We soon added our friend Derek to the mix and not long after that, my girlfriend (and then wife) Renee joined the crew. As Bob and Derek got engaged and then married, their wives became part of the Ducks season ticket gang and we enjoyed many, many fun times together for 14 years.
We all began families at nearly the same time, and two of us ended up with twin boys 3 months apart while the other has a daughter and son 18 months apart (all are within 2 years of each other). So we collectively decided that maintaining the season tickets wasn't a priority any longer – we now have other priorities that have to take precedent.
But it hasn't stopped us from attending a handful of games together – and having our own viewing parties in each other's homes (while the kids run around and play in their Oregon Ducks gear).