In my last post I dutifully explained our experiences with Au Pairs and talked about how some experiences have been better than others. I optimistically wrote that I was sure our new Au Pair from Brazil, Juliana, would be a great fit in our family and we couldn't wait to meet her.
Wow – I had no idea what was coming.
So here is the short version of the story: Juliana only lasted one week in her job before she quit (but we would have fired her had she not quit). This was truly an unprecedented experience for us. As I wrote earlier, we've had Au Pairs who quit and went home after 5 or 6 months – but never one who bailed after a week.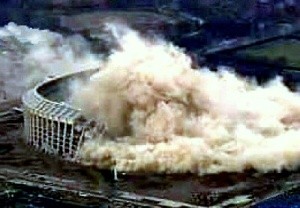 How did this happen? Good question.
Quite simply this was a classic case of a new employee who was in over her head.
In fairness to Juliana, she was a very nice and sweet girl. But she clearly was not equipped or prepared to care for 4 year old twin boys.
She arrived as scheduled on Thursday night – fresh from her orientation meetings and classes on the East Coast. As we do with all new Au Pairs, we told her to sleep in as late as she wanted on Friday to catch up on jet lag and lost sleep. On Friday afternoon the weather was pleasant so I took Juliana on a bit of sight-seeing around Edmonds and Seattle and decided to show her Gasworks Park (the twins were with us). As is often the case when we go anywhere, as soon as we arrived Stone immediate took off running one direction while Ty went another. I told Juliana she could stay with Ty – I'd keep an eye on them while I chased Stone. We converged again after a few minutes and she made a comment about how hard it must be to keep the boys together and contained in a park like that – I said she'd get used to it and didn't think much about it.
She had earlier asked about Starbucks so I decided to take her to the Green Lake Starbucks so she could enjoy the great ambiance of the lake as well as the outdoor deck on the roof of that particular Starbucks. As we sat and relaxed Stone was his typical mischievous self – exploring (and trying to destroy) the plant and flower boxes that were scattered on the roof. I was bobbing up and down trying to contain him but it really wasn't a big deal. But she again made a comment about how much work it seemed to be keeping up with Stone and Ty. Again, I didn't think much about it.
Saturday Renee took Juliana out for more sightseeing and to test her driving. When they returned Renee told me her driving was on the shaky side and she needed more practice. So Sunday I took her out driving – and Renee was right (it was definitely shaky). I didn't think it was horrible but it definitely didn't make me feel confident in her abilities. Still, I figured it would only get better and she probably would drive better when she wasn't in the car with her host mom or dad – maybe it just made her extra nervous.
Monday arrived and Renee had arranged to take the day off (as well as Tuesday) to help train Juliana. They drove the twins to school together and were to go through all of the routines. Around Noon I received a text message from Renee – she said the driving was NOT going well and that Juliana had already cried twice. Uh oh. Later another text: the day was definitely NOT going well. Renee didn't want to ride with her again on Tuesday. More tears. Big Uh oh.
After her shift ended I suggested to Juliana that the two of us drive to the local Bartell Drugs – this is a store she may be visiting in the future. I thought it was a good excuse to get her out and try to lend her some support after a rough day. I tried to be lighthearted and told her that I know it's hard to drive with Renee (it was actually Renee's good idea to tell Juliana this) and that I don't always like it either. She nodded her head and again started crying. Even though it was only the first day, I was clearly worried.
Juliana had eaten dinner with us the first three nights but I was betting against her joining us on Monday night. Still, I wanted to extend the invitation so after I made dinner, I went up to her room and knocked on her door. No answer. I knocked again – still no answer. I couldn't believe she wouldn't at least acknowledge me. Renee went up a few minutes later and the same thing happened – knocking but no answer. I knew we had a big problem already so I called our local Au Pair coordinator and told her we had some serious issues. She said that Juliana was just really homesick and that once some of the other local Brazilian Au Pairs reached out to her she'd be fine. Renee sent an email to all local Au Pairs asking them to contact Juliana as well – and one actually did. She went out for a bit that night and we hoped for the best on Tuesday.
Tuesday did go better. Renee spoke with Juliana and she admitted she was homesick but said that this was what she signed up for so she'd be OK. There were no other major incidents that day so we felt OK (though not great) about Juliana's first day alone with the boys on Wednesday. I needed to be in Seattle for meetings that day so Juliana was truly going to be on her own. The day passed without any major incidents – she even sent me a text message saying they were at a park and doing great. Phew – things are calming down (I thought).
But Wednesday night Stone woke up at 10:30 pm and started throwing up all over the bed. He remained sick throughout the night and into the morning. I decided to stay with him while Juliana took Ty to preschool that morning. Stone and I hung out on the couch – he watched the Little Einsteins while I worked on my laptop and observed Juliana. I was stunned that she didn't ask once how Stone was doing/feeling and she never offered to get him something to drink or to assist at all. After she picked up Ty and brought him home she was supposed to make them lunch – and had no idea what to do. I suggested pizza bites as they are easy to microwave and she didn't know how to make them. When I told her she could microwave them she wanted to put the whole box in. Fortunately Stone was feeling better and I thought he would be OK to visit a playground so I suggested she take them to one. I asked if she had taken Ty to the bathroom since they had got home from preschool and she had not. I helped her round up the boys and put them in the car but when I found Stone it was clear he had a poopy pull-up – and she hadn't even checked it (and was ready to stick him in the car). Again, red flags were waving everywhere.
When we had matched with Juliana she friended us on Facebook and it was a fun way to stay in touch during the time before her arrival in the US. But Renee and I both checked her page and noticed she had posted something in Portugese that said something about how she felt like she was in a crisis  –  clearly she was not happy.
Friday rolled around and there was no preschool for the boys. I decided to work in the home office and shut the door so I wouldn't be a distraction. I saw them play outside and it seemed to be going OK – although it didn't look like she was having a very good time. Her body language was terrible – no energy. I came out for lunch and to check in and see how things were going. It was clear she had been crying again and when I asked what was wrong, she said that it seemed like things were in constant chaos with the boys. I just laughed and said welcome to the world of four year old boys…it is always chaotic! But the fact that she was so clearly overwhelmed was a sign – she was not a fit for us. I again called the local Au Pair coordinator and told her we needed a visit on Monday so we could begin the rematch process.
Terry arrived Monday morning and we met with Juliana. She admitted she was overwhelmed and didn't want to continue in this role – she said that Stone's needs were too much for her but in reality, he had not been any more needy than any other 4 year old that week. I think she just realized how  much work was required to take care of active 4 year old twin boys and didn't want to deal with it. By 1 pm she had packed her room and a local Brazilian Au Pair picked her up and offered to let her stay with her while Juliana tried to be rematched with an American family.
I very much doubt that Juliana will be placed with another family – I can't think of too many families who would be interested in hiring an Au Pair who quit after only one week on the job. I suspect she's probably back in Brazil now actually as she only had 2 weeks to try to rematch before the agency would send her home.
How did we end up with such an unqualified Au Pair? The same way employers sometimes find themselves with an incompetent employee. We didn't check her work experience carefully enough – when we went back and checked again we realized that most of her "child care" was helping watch siblings and relatives – or working at her Aunt's childcare center (we suspect she did very little of the child care herself). I think that once she found herself in the position of having to provide the childcare, she really didn't know know to perform the duties. So that was a big mistake on our part. We saw she was familiar with Autism (through her Aunt's center) and were eager to rematch after our last Au Pair suddenly quit on us.
So now we're back to where we were at the end of my last post. We have found a new match – and again we're excited. This time though we are matching with a young woman from South Korea who has extensive child care training (it was her major in college) and experience (she has been a school teacher the past 3 years). We met her via Skype video chat over the weekend and she is an eager, sweet and smart Au Pair. She asked excellent questions and was genuinely excited about caring for the boys. She has worked with children with developmental issues through her classes and wants to help teach both Stone and Ty.
She arrives in the US on May 30th and again will go through training and orientation before arriving in Seattle on June 3rd.
Update (April 30th): I found out from our local Au Pair coordinator that Juliana was indeed rematched with another family, apparently on the East Coast somewhere. I'm obviously very surprised given our experience but the hiring family did not contact us for a reference. Good luck to all of them!