Read the full story at Mashable.
True story: when managing the design and development of a new website for a major rebranding program of a multi-million dollar company, I found myself in an argument with the CTO and Director of IT explaining why we had to follow AP Stylebook guidelines when writing and posting content to our site. They simply couldn't understand that a website was a form of publishing – and that if we wanted to be taken seriously we needed to make sure that we followed AP stylebook guidelines throughout the site.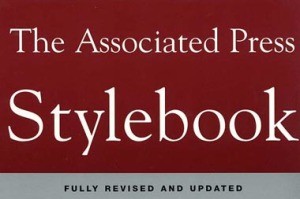 Now why the CTO and Director of IT was even involved in the discussion surrounding the content on the site is an entirely separate conversation and post…but they created enough internal FUD (fear, uncertainty and doubt) that I had to eventually engage the CEO and COO and explain to them that my approach was not "radical" and was in fact, standard within the web publishing world.
In fairness, there are probably more than a few people who don't even know what the AP Stylebook is – but this should not be the case if you work in journalism, public relations or communications. AP has done a nice job of keeping up with the times and over the years has included words/phrases associated with web sites to their list so it has maintained its relevancy.
And today I just came across this article announcing that the AP is now diving into Social Media with its most recent Stylebook (which the AP modestly declares, "the journalist's bible."
Now it's official – you can use fan, friend and follow to be used as nouns AND verbs!
I wonder what new acronyms (and terms) will have to be included in next year's version? Time to bone up!
... other posts by
Calendar

Links

Categories

Archives