Most people associate the word "Geek" with software and technology. But I think it expands far beyond the tech world today.
According to Wikipedia, "The word geek is a slang term, noting individuals as "One who is perceived to be overly obsessed with one or more things including those of intellectuality, electronics, etc."
And while I've worked in the technology industry for most of my career, I've never considered myself a true tech geek. An early-adopter perhaps – but not a propeller-headed geek.
But when it comes to sports, well then, that's another ball game (bad pun intended).
By now, nearly every American is familiar with Fantasy Football (even if only conceptually). Fantasy football is HUGE in American culture today. And it's HUGE business today. How huge? Try $3 billion a year in 2007 (no doubt even bigger now).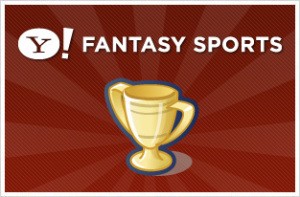 I've been playing Fantasy Football since 1989. So for more than 20 years now, I've invested time, energy and yes, money drafting, trading and claiming NFL players in a quest to win a virtual championship in leagues with friends, family members and strangers. I was first recruited into Fantasy Football when it was still very much a nascent and niche hobby for hard-core football fans. The first person who told me about – and invited me to a league – was the husband of my first manager at my first job at Waggener Edstrom. I still vividly remember him trying to explain the concept to me at a party and how the scoring, etc. worked. I didn't quite understand it – but I was intrigued enough to try it out. And I've been hooked since.
The explosion of Fantasy Football is directly tied to the growth of the Internet. In the early days (from 1989 – 1997), running a league (and even teams) took a lot of manual labor. The draft was either in person or via conference calls and it required each manager to manually track players selected, available, etc. Weekly rosters had to be printed and faxed (yes faxed) to the commissioner by 5 pm each Friday. You had to rely on your local newspaper, USA Today, Sports Illustrated and ESPN to stay updated on player developments (such as key injuries). The commissioner had to manually add up the point total for each team using newspaper box scores and then email results on Tuesday.
Eventually that first league folded and I set up my own league with friends and family. Websites such as Yahoo! saw (or guessed at) the potential of fantasy leagues and allowed players to set them up for free using their services. And what a difference it made having everything automated. Now, drafts could be held online – you simply had to click on a player when it was your turn to draft and they were placed on your team. Team management was easier too with the explosion of online sports news sites. Now you could track players in each NFL city online – you were no longer dependent on the local newspaper only.
The simplicity and ease of online fantasy sports leagues caused them (especially football) to boom. It was estimated in 2006 that nearly 18 million Americans participated in Fantasy Football each year.
As I mentioned earlier, Fantasy Football is very much a family affair for me. I first recruited my younger brother Paul to play in the earliest league and he was also hooked. It then extended to our Dad and my wife Renee in the late 1990s and eventually our niece (who first joined as a freshman in high school). It's not a surprise to those who know us but the Kaufer family is intensely competitive. So it's also not a surprise that one of us has won the championship each year of the league's existence – with the exception of 2 years (when Kaufer's took 2nd place). Renee won the league the year the twins were born and is a consistent top 5 finisher (she was runner up last year).
We have a number of friends who play in the league each year and tend to rotate  in and out a couple of teams each season. The group has included girlfriends and wives and sisters and brothers. The core has remained consistent now for the past 10 or so years and that makes for a very sophisticated and again, competitive league.
Now we're in the age where we can literally watch every NFL game on mobile phones and receive instant score (or injury) updates. The competitive advantages that used to exist from those who knew how to quickly find or discover player information has mostly evaporated and it's a level playing field.
For the first time I'll be playing in two leagues this season. In addition to the league I'll again manage I joined a Seattle Twitter fantasy football leaguee. Each manager is active on Twitter so it should make smack talk even more fun on Sundays.
As I look on my desk and see a pile of various fantasy football and prediction magazines for the upcoming season (5 in all) I have to admit that I am indeed a Fantasy Football Geek. But I'm hardly alone.