Originally posted on our Zenwerks blog:
SeaWorld. Home of friendly whales, acrobatic dolphins, fun for ages 1 to 111, and…social media wizardry?
Strange, but true. And better than that – instructive, too, since there's much we can learn from the fine, often damp folks at SeaWorld San Antonio (and we don't even have to jump through a hoop or eat a handful of mackerel).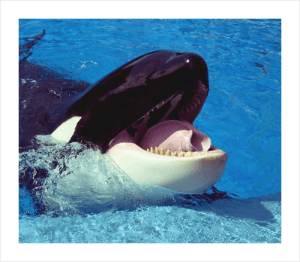 The Background
About a year ago, SeaWorld San Antonio wanted to use social media to introduce their new roller coaster "Journey to Atlantis" to the world.
Specifically, they identified three key goals as part of the social media campaign:
1. Foster and develop a relationship with roller coaster enthusiasts (a surprisingly large group of influential thrill-seekers);
2. Spread awareness of the "Journey to Atlantis" coaster;
3. Drive and attract more people to SeaWorld – coaster lovers and those who love coaster lovers (or just go places with them).
The Strategies
With intelligence that would impress even the most erudite dolphins (the ones with pocket protectors and scholarships to MIT), the SeaWorld people did their research and identified 22 blogs where coaster lovers gathered. And-a-posting-they-went.
SeaWorld supported their posts by driving traffic to a new content rich website, which contained core information about the ride and other park information. What made this website especially valuable from SeaWorld's perspective was that it had all of the social media bells and whistles; something that its corporate site simply didn't have at the time.
The SeaWorld folks also created 11 videos and a portfolio of 45 pictures that captured Journey to Atlantis' construction. In addition to populating their new website, these assets were uploaded to YouTube, Flikr, Veoh and other communities, and designated with a Creative Commons license to foster redistribution.
The Results: Part I
The SeaWorld team gauged performance and "buzz" by seeing how many coaster blogs linked to its special Journey to Atlantis website. Of the initial 22 blogs that were targeted, a very respectable 12 linked back – including the influential blog "Theme Park Insider."  On top of this, 50 unique links traced back to the main site, 30 of which hailed from sites operated by proud, self-declaring coaster junkies. And rounding things out, a group called the "American Coaster Enthusiasts" ushered 30 of its esteemed members to ride Journey on Atlantis on media day, and many of them left positive reviews on YouTube and in other social media enclaves.
The Results: Part II
What made this effort over the top successful instead of just "really successful" was, as always, the price tag. Compared to other marketing campaigns, the costs were ridiculously low. Using a standard exit survey to capture how many park visitors learned about the ride from social media sources, and then comparing the costs against other traditional media (such as television), the costs per impression for this campaign came out to a paltry $.22/impression, compared to $1.00/impression for TV. In other words, the social media campaign delivered results at 1/5th the cost. And when this was factored out into actual revenue, the accountants and their calculators determined that the online campaign alone created $2.6 million in revenue.
The Takeaway
Now, as enthused as we are by all of this, we can't say that social media campaigns will always outperform traditional campaigns by a 400% margin. But we can say, thanks to the excellent results achieved by SeaWorld San Antonio, that when strategized, implemented and evaluated properly, social media campaigns can be staggeringly rewarding and – just as nicely – require (relatively) little up front costs, limited resources, and a low risk threshold.
Now that's a deal that even the most disinterested killer whale would have to wave a fin to….maybe even two.
(With files from http://overtonecomm.blogspot.com/2008/04/case-study-roi-of-social-media-campaign.html)
Related
Tags: Kaufer DMC, Marketing, seaworld, Social Media
Calendar

Links

Categories

Archives