Famed 80s rock band Journey has strong roots in the Bay Area and they were really the first rock band I really loved as a teen growing up in the East Bay. In high school, they were also the first "real" rock concert I attended with a group of high school friends. It was a memorable performance at the Cow Palace (yes, that's a real venue) in Daly City that kicked off the group's huge "Escape" album tour. The album featured three top-10 songs, including "Don't Stop Believing" (more on the song in a bit).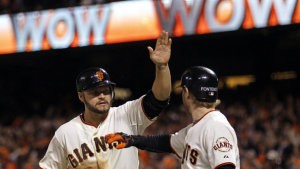 The concert took place in Fall, 1981, and coincided with the sudden rise of the San Francisco 49ers. Long-suffering Niners fans were already dreaming of winning the NFC West and returning to the playoffs after an 8 year drought.
At some point during the concert, the band paused and Steve Perry spoke to the audience. He said, "I'd like to take a moment to introduce some special guests we have here tonight – please welcome the Next….Super…Bowl….Champions….San Francisco 49ers!" Suddenly a group strolled onto the stage and the crowd quickly recognized Joe Montana, Dwight Clark and other members of the team. The Cow Palace went wild – it was really a great and fun moment.
Fast forward to 2010 and the San Francisco Giants improbable run through the season, capped by an appearance in the playoffs (which wasn't secured until the final day of the season). Like the 49ers fans of the early 80s, today's Giants fans rejoiced at the end of the playoff drought (the Giants hadn't seen the post season for 8 years). But today we have social media. And suddenly a Giants Playoff anthem appeared and race through cyberspace as Giants fans shared it via Facebook, Twitter and email. The anthem is none other than "Don't Stop Believing" by Journey – and San Francisco fans have embraced it (almost as much as Glee and Sopranos fans adopted it recently as it experienced a new renaissance).
During last night's 9-0 Giants trouncing of the Texas Rangers, fans at AT&T Park were encouraged to sing along to the song, and then were surprised to see a guest appearance by Steve Perry – former lead singer of Journey. This video is a great sing-along of "Don't Stop Believing" as well as one of the unofficial rock anthems dedicated to San Francisco, "Lights."  It is very cool stuff – and reminded me of that concert almost 30 years ago…