I'm not just a huge Oregon Ducks fan, I'm also a big college football fan and love the emotion and passion seen week in and week out in college football games. No game this season was more emotional and intense than last Friday night's Boise State-Nevada game in Reno. Boise State rode into town on the heels of a 25 game winning streak and ranked #3 in the country. Nevada had not defeated Boise State in 10 years and was a decided underdog. After the Wolfpack fell behind 24-7 in the first half, many fans assumed the game was over and the Broncos would roll up yet another lopsided win.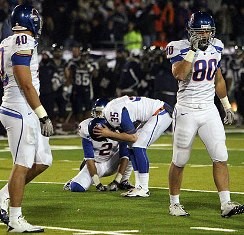 But Nevada's defense suddenly started shutting down Boise State in the 2nd half and the Wolfpack was able to score a couple of times to make it a ballgame. Once the home crowd realized Nevada had a chance at the unthinkable, it became more energized and you could feel the momentum shift in the 4th quarter when Nevada scored a touchdown to tie the game 24-24. No sooner had the celebration begun to die down when Boise State scored on a fantastic 76 yard screen pass and run – to pull back ahead 31-24 with less than 5 minutes left in the game. Nevada came roaring back again and pieced together a drive down the length of the field – capped by a game-tying touchdown pass with under 20 seconds left in the game. With so little time left, fans and viewers alike assumed the game was automatically heading into overtime. After the kick off, Boise State had the ball on its own 37 yard line and only 9 seconds left. What followed was one of the most amazing plays all season:
Incredibly, Boise State was now in chip shot field goal range and it seemed inevitable that the Broncos would escape with a last-second win. But again unbelievably, BSU's kicker missed the field goal – and the game went to overtime (see photo above). Boise State had possession first and again wasn't able to score a touchdown so they settled for another short field goal attempt. Amazingly, the kicker missed a 2nd time. Nevada took over possession and was able to move close enough for its kicker to make a field goal to pull off the upset of the season and send ripples across the college football landscape.
And to show the kind of emotion that is generated by players and coaches in this type of game, check out this video of the Nevada Wolfpack locker room after their huge win. Great stuff.