Twitter today released its top 10 tweeting trends for 2010 – and the list is interesting, to say the least. Any guess what the most tweeted subject was during the year? You should  have easily guessed the BP Oil spill (although its interesting how quickly that controversy has died down in the media – but that's another topic). Some of the surprises on the top 10 list? How about the vuvuzela (those obnoxious sounding horns from the Wold Cup) at #5 or Pulpo Paul at #10?
Here is the list:
Top 10 Twitter Trends of 2010
1. Gulf Oil Spill
2. FIFA World Cup
3. Inception
4. Haiti Earthquake
5. Vuvuzela
6. Apple iPad
7. Google Android
8. Justin Bieber
9. Harry Potter & the Deathly Hallows
10. Pulpo Paul
Top 10 Twitter Trends of 20101. Gulf Oil Spill2. FIFA World Cup3. Inception4. Haiti Earthquake5. Vuvuzela6. Apple iPad7. Google Android8. Justin Bieber9. Harry Potter & the Deathly Hallows10. Pulpo Paul
As Twitter points out in its blog, "The list of 2010 Twitter Trends reflects what's happening in our world, demonstrates the power of turning any event or story into a shared experience, and underscores Twitter's value as a real-time information network." What stuck out from its release to me though was the fact that to date, there have been an astounding 25 billion tweets in 2010. This demonstrates how much Twitter had grown in the world and how much its being embraced by individuals and organizations alike.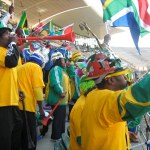 The Twitter train is rolling big time and companies and organizations that continue to ignore it do so at its own peril.
But a reality check is also needed. While Twitter use continues to grow at this break neck speed, it means the noise and clutter also continues to grow – and its getting harder for those new (and old) to Twitter to filter through the noise to hear or find the information interesting or relevant. Here's a sobering fact: according to TheNextWeb.com, half of all Twitter users don't read a word you say. And while Twitter has grown to the point where 5 percent of Americans are now using it to some degree – that means 95 percent of Americans still aren't. So companies that rely on Twitter only for its marketing and/or complete communications programs are severely limiting the size of the audience for their messages. The upshot though is that Twitter has a very stront impact – especially given its minority standing in the media world. Topics that become Twitter storms often quickly make it into the mainstream and are spread across millions.
So what's the bottom line here? Well, Twitter is obviously here to stay and we have all seen (or heard) of examples where it has had a tremendous impact. Its growth will continue but so will the challenge to cut through the noise. This is consistent with marketing and communications in general however. The key has always been identifying the appropriate audiences for the greatest impact – and then creating relevant messages (and now engaging with these audiences). And obviously it needs to be part of an integrated and comprehensive marketing/communications program.
What will be the top 10 Twitter topics in 2011? Time will tell…
Related
Tags: Social Media, Twitter
Calendar

Links

Categories

Archives