It was a few weeks ago that Renee and I appeared in an AOL.com article titled "Buying a "Divorce" home has its perks." The article included quotes from myself as well as from real estate professionals about potential benefits of buying a home from a couple who is selling due to a divorce. I didn't think much about it really, because I assumed that given the high divorce rate, this was actually a pretty common transaction.
As I stated in an earlier post, I had responded to a post by a reporter who was looking for home buyers who had experience buying homes from couples who were divorcing. I knew that it was rare (and interesting) that my wife and I happened to buy our last three homes in these situations so I contacted the reporter and briefly shared our experience with her.
As often happens in an article, all of the details aren't included, so it's sometimes easy for people to jump to conclusions. The article initially was tucked into AOL.com's real estate section so it didn't receive much attention. But for some reason, AOL.com decided to feature it on its home/splash page about a week later – and boy, did the attention arrive (although I had no idea how much until today when my Dad asked me what I thought about all the comments posted after the article). A few of my friends posted on my Facebook wall that our article was featured on AOL and one mentioned that she didn't know that we had targeted divorcing couples to buy our homes. I explained to her that these hadn't been "targets" – just coincidences (see below). But I didn't know there was such a reaction on the site until I checked it out earlier today.
It was actually pretty funny (and interesting) to read all of the comments after the article. I think my favorite was the one that said "They must be Republicans, only they can smile through other peoples misery……..It's as if they're gloating." First, not sure where political affiliation has anything to do with buying or selling a house, but whatever. Second, you couldn't be more wrong anyway (we're hardcore liberals).
Another was the comment directed at our photo that said "They make a profit from others miseries and are proud of it with their smirky smiles. Can't stand to look at them." (Uh, the photo was from my mom's 75th birthday party last summer – the real estate market was the furthest thing from our mind there chief).
Many of the negative comments seemed to focus on how we were intentionally profiting from others misfortune and what horrible people we (and even our children!) must be to do such a thing. Thankfully, there were also a few level-headed comments that pointed out the obvious: these were all business negotiations where offers were presented, counter offers were made and ultimately a closing price was accepted. There was nothing underhanded, shady nor manipulative about any of it.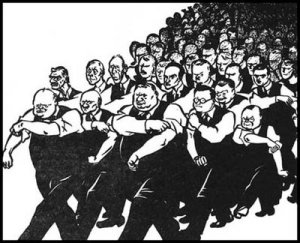 It's clear that the article struck a raw nerve with many people – but I sense that much of this is tied to the recent real estate meltdown that has literally impacted millions (including us), and the sense that there are people (or businesses) looking to capitalize on others' misfortunes (such as foreclosure crisis). I don't blame people for being angry or upset – these past few years have been extremely difficult for most of us economically. And with the headline of the article focusing on the "perks" of buying a "divorce" home, I can see why some would assume that this was strategy employed by my wife and I when house-hunting. But this is simply not true.
There are a few important points about our experiences that should be made more clear or were not included in the article:
At no time have my wife and I ever celebrated another couple's split and I never implied that we did in my interactions or comments with the reporter. By writing that Renee and I "

have had more than one occasion to celebrate another couple's split"

in the lead paragraph, the reporter grossly misrepresented us (and I'm sure led to many of the assumption and comments related to our motives and intentions in these transactions). I personally knew the pain divorce brings to families – having experienced it myself when my parents divorced.
As I mentioned earlier, it was purely coincidental that the last three houses we bought were from couples going through a divorce. It was never part of our buying strategy – just the result of circumstances. Here is quick recap of each situation and transaction:
House #1 was in the Seattle area and was shortly after my wife and I were married. We had been living in small house near Green Lake (and a very busy Aurora Avenue) and knew it wasn't where we wanted to raise a family (which was very much part of our plans). We began looking for an ideal family home and after a few weeks, found a great property in Lake Forest Park (just North of Seattle). It was what we considered a perfect house for raising a family – about 2800 square feet, on a quiet cul-de-sac and immaculately landscaped yard. It was far and away the most desirable house we'd seen in the price range we were shopping so we wondered why it was for sale. Our real estate agent told us the couple was divorcing. As newlyweds, that was hardly comforting news to us.

It was during two separate visits to the house with the husband and wife that they offered to sell us furniture and other items. Each said they were looking for fresh starts and didn't want reminders from the marriage. Since I often worked from home, the idea of having a home office (similar to the one they already had set up) was appealing. So the wife offered us the killer desk set at a very attractive price and we agreed to buy it. We had to return to the house a day or so later (I can't remember why – it might have been for the home inspection) and the husband was home this time. He mentioned that the large area rug in the basement/family room was also for sale and convinced us to buy it as well. So yes, we got a couple of great deals as a result of their divorce, but they were items they offered to us and it was all very friendly and cordial. We certainly were not looking to profit from their split.

Six months after we moved into this house, I was offered a position I couldn't refuse with Cisco Systems in the Bay Area (where I grew up). It was a difficult decision, because we felt as if we had just purchased our dream home and I honestly thought we would live there for the next 20 years (just as I had lived in the same house while growing up in California). But the job was too tempting, and we didn't want to deal with the hassle of trying to rent our home, so we decided to put it on the market only 9 months after buying it. Because the market was relatively soft a the time (in 1998), we were only able to sell it for the same price we had paid – so we lost money when you consider broker fees, closing costs, etc.

In the meantime, we had to find a new home in the Bay Area – and fast. I was provided temporary housing through Cisco but it was only for a month. My sister-in-law is a real estate agent in the East Bay, so she helped us during the house-hunting process. We had looked at dozens of homes, and were close to quitting, when we decided to look at a house on the list that had been on the market the longest. Our sister-in-law had told us not to bother because there must be something wrong for it to have been on the market so long – but Renee I decided to check it out anyway. We saw it and it looked OK. Unlike the house we were leaving in the NW though, it had no landscaped yard. It clearly needed some work (even though it wasn't that old) so we sensed we could potentially get a deal. Again, it wasn't until after negotiations began that we discovered the couple selling the home was divorcing. We looked at each other and thought "how weird" but proceeded with negotiations. Given the length of time the house had been on the market (well above the average in the area), we decided to make an offer $10,000 below their asking price. And surprisingly, they accepted.

We literally invested a year's worth of weekends and evenings after work landscaping both the front and back yard (there really was nothing – other than a giant palm tree in the front). Our creations included a trellis, koi pond with a working statue/fountain and stepped brick walkway. It was an enormous source of pride.

But as I mentioned earlier, Renee and I have always wanted a family, and we were getting more serious about making this a reality in our lives. Like many other couples, we struggled for a long period of time getting pregnant, but eventually were rewarded for our investment (literally) when we learned that Renee was pregnant with our twin sons.

Even though we loved the Bay Ara, Seattle is where we wanted to raise our family, so we decided to pull up stakes again after 8 years in Pleasanton and head back North. Which brings us to:

#3 We flew to Seattle for a long weekend of house-hunting so we again had only a limited amount of time. And as was the case in the Bay Area, we visited dozens of homes with a real estate agent, none of which felt quite right. It was literally the last house he showed us that we knew was the best fit. And again, as was the case with our move to the Bay Area, we noticed the house had been on the market longer than average – especially given the time (this was in the summer of 2005, just as the market was peaking). Unlike the Bay Area and earlier Seattle purchase though, the couple selling this house was not divorcing at the time (we found out through neighbors that it came nearly a year later). But based on our previous experience, we thought it was worth a shot making an offer below the asking price, and again we were pleasantly surprised when it was accepted.
It should be noted that in all of these cases, the couples who sold to us were the original owners of the homes – so they bought the houses for hundreds of thousands of dollars less than the price we paid them. They all made a great profit on their investment – even if their marriages did not survive.
And we've experienced both the high's and low's of the real estate market along with millions of others. As I noted earlier, we've lost money on some of our purchases – and our current house is currently underwater along with 1/3 of the Puget Sound real estate market. So maybe all those who made comments about karma paying us back may be right (although I feel bad that our greedy actions single handedly had to drag down the innocent 30% of the market who is underwater with us).
So there you go. Maybe you still think of us as leeches who prey off the misfortune of others and if that's the case, oh well. Those who know us best already know and understand that we're just another American family juggling all of the challenges that come with raising a family.