This week I'm trying a new approach to my old "Follow Friday Feature Profile" column – I'm going multimedia with a video interview instead of the standard text Q&A. I'm excited about this step because I think you can really learn a lot about a person from watching and listening to them while they answer questions and share information.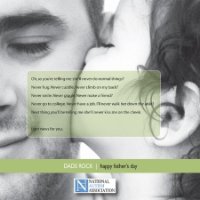 My first guest for this new format is Timothy Welsh, known as @TannersDad on Twitter. I'll admit upfront that this is a long interview and video – longer than most will be moving forward. But as fathers of sons with Autism, Tim and I share a common bond so we had lots of ground to cover. Tim is one of the leading online advocates in the Autism community. His energy and passion blows me away. As he explains in the video, he first started blogging as a personal release and means to deal with the stress that goes with being a parent of a child with autism. He had no idea the impact he was having on others until he met another parent at an Autism conference – who told Tim that reading his blog helped the father from committing suicide. It was then that Tim realized the power of social media – and how important it is to help parents realize they're not alone in their struggles, to help build an online support group and to advocate for autism-affected children and families alike.
Tim and I cover a lot of ground, including discussing the controversy surrounding vaccinations and their potential role in the rampant increase in Autism cases the past 20 years. After following and interacting with Tim for almost three years, it was a true pleasure and honor to speak with him and learn more about his work and the challenges he faces with Tanner. If you are a parent or grandparent of a child with Autism, I think you'll find the interview to be insightful and interesting. I'm also going to post (under the video) links to all of the groups where Tim can be found – as well as additional Autism resources.
TimWelsh/TannersDad
Autism Advocate
Director Mason Allen Medlam Foundation for Autism Safety
Cell:217 260 3098
http://www.twitter.com/TannersDad
http://www.linkedin.com/in/tannersdadtimwelsh
http://www.change.org/profiles/tannersdad
http://www.autismone.org/users/tim-welsh
http://www.facebook.com/timothy.welsh1
Twitter Hashtags  #HDTJ #APE #FeelAutismYet #FAY #AutismABC #TAhml #Truthfirst #MTHA #BFH #1in58 #autism
http://www.usofautism.com Movie Trailer debut April 2nd.
Related
Calendar

Links

Categories

Archives