Even though I'm far from a hard core hockey fan, I usually take an interest in the NHL playoffs every year. The competition is always intense and the long best-of-7 three round format means that the Stanley Cup winner has really had to earn the championship. This year was no exception and when the playoffs began I decided I was going to cheer for the Vancouver Canucks to win it all. The city is close to us (only 2 1/2 hours from Seattle) and the hockey-crazy city has never experienced a championship in the Canucks' 40 year history.
Vancouver had a wild and crazy playoff run and I became an even bigger fan the more I watched them. They almost blew their first round against Chicago, going up 3 games to none, before promptly losing 3 straight games to force a Game 7, in which they prevailed. They dispatched Nashville next in 6 games and then San Jose  in only 5 games in the Western Conference finals. It seemed my pre-playoff prediction of Vancouver winning its first-ever Stanley Cup would prove accurate when the Canucks jumped out to a 2-0 lead on the Boston Bruins. But Vancouver was unable to win on the road and was forced to again play a game 7 at home for the Stanley Cup.
Because home team had won every game of the series, it seemed Vancouver had the edge in Game 7 as the city braced itself for win or loss. Unfortunately for the Canucks and their fans, they came up way short, and lost the game 4-0. The city would again have to wait to crown their team as champion. And that's where this story really starts.
I was unable to watch Game 7 but I was able to keep up with the score through my iPhone and knew it was a lost cause for Vancouver when they were down 3-0 in the 3rd period. I wondered how the city would react to the loss as I remembered seeing articles about riots in the city after a Game 7 loss to the New York Rangers in 1994. I hoped history wouldn't repeat itself.
As the official final score rolled across my Twitter streams, I began to see reports about minor disturbances outside the arena in downtown Vancouver. Initial reports included a couple of cars being turned over and set on fire. Not a good sign, but for awhile it seemed that was the extent of the disturbance. However, soon I began seeing more tweets reporting additional fires and riots breaking out across the city. The number of tweets – and severity of the situation – grew more intense over time. I was now seeing reports that bridges leading into downtown were closed and looting was rampant in stores. As is now the case when a major story breaks throughout the world, media outlets were soon sharing photos and video reports from the scene. It was truly unbelievable seeing the melee happening in a city that is hardly known for violence or disturbances.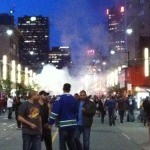 I wondered if there was a live stream from a Canadian news outlet covering the activity and through a quick Google search was able to find CTV and their live video feed. I tweeted and shared the link via Twitter and Facebook and watched transfixed with thousands of others as the scene continued to unfold. The looting continued and riot police moved in to contain the remaining hooligans. Many people were complaining on social media outlets that they couldn't find coverage of the events on American networks or channels. For most of us, the CTV feed was our only live window into the event. The surge in demand was apparently too much as the live feed crashed around 11:30 pm PST. I went to bed wondering how bad the damage would be in the morning.
Today the news coverage was mostly predictable. People were still shocked and surprised what happened in Vancouver – and most have come to realize and agree that the bulk of the activity shouldn't be blamed on "hockey fans" – but on hooligans who were intent on causing mayhem no matter the outcome.
But social media came to the rescue as proud Vancouver residents rallied to clean up their city streets – and international image. Even before the rioting had concluded last night, someone created a Facebook page, "Post Riot Clean-up — Let's help Vancouver." The goal was to get people out early in the morning to clean the streets and bring the beauty back to the city. Incredibly, nearly 20,000 have done so at this hour. Many residents started cleaning early this morning and it continued throughout the day.
And now when searching YouTube for "Vancouver Canucks Riot" you'll find a smattering of videos such as the one below, that focus on this clean up effort – created and posted by proud Vancouverites. This is a very positive use of social media as it helps counter the extremely negative images ingrained in minds from last night's riots.
Finally, law enforcement authorities are using social media in hopes of identifying and arresting those responsible for the violence. According to the Seattle Times, "In real time, photos and videos of people smashing windows, setting fires and causing havoc popped up on Twitter, Facebook and elsewhere.
To help police identify rioters, some computer users created pages, groups and blogs such asidentifyrioters.com andvancityriotcriminals.tumblr.com."
Along with so many, I hope these efforts to bring justice are successful.
Related
Tags: Social Media, Twitter, vancouver riots, youtube
Calendar

Links

Categories

Archives