The introduction and rise of smart phones the past four years has fundamentally changed the way people access apps, games and information. And this technology tsunami is gaining strength as sales continue to boom. If you already own an iPhone or Android, you probably don't think about how many others also own or are buying the devices. If you are a business owner – or responsible for marketing for any business or organization, this is a trend you can't afford to ignore.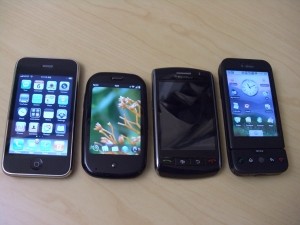 According to Gartner, Inc., Worldwide mobile communication device sales to end users totaled 427.8 million units in the first quarter of 2011, an increase of 19 percent from the first quarter of 2010. And Smartphones accounted for 23.6 percent of overall sales in the first quarter of 2011, an increase of 85 percent year-on-year, Gartner said.
As more and more people are getting their hands on smartphones, they're embracing the technology to consume mobile media in ever-increasing rates. According to comScore, Social Networking has experienced the greatest growth, with an increase of 45.7% in March, 2011 (compared to March 2010). News, information, sports scores also posted impressive growth – but perhaps most notable for marketers is the growth in mobile search (up 32% year over year).
As MarketingProfs notes, "Some 45.7% of Americans already access mobile media. That level translates to roughly 106.8 million consumers who use a mobile browser, application, native email, or stream or download music and video via their devices—up from 88.3 million Americans who did so in 2010."
And folks, this is only a few years into the mobile and social media revolution. What do you think the future holds? You can be sure that continued growth of smartphone market penetration will continue to climb – as will the continued adoption and consumption of mobile media (including new ways to share music, video and other forms of digital data).
You may be at a company that somehow missed the Web 2.0 wave a few years ago or decided not to engage in ecommerce on the web. If so, I have good news: you now have a golden opportunity to catch – and potentially leapfrog past – your competitors who are stuck in Internet 1.0. By adopting and embracing mobil and/or social commerce strategies, you can quickly address and serve a huge (and growing) market that those who are relying on a simple web site cannot.
But as is usually the case in times of business shifts and transition, the window of opportunity will not be open long as it is only a matter of time before all major players in every business and industry (B2C and B2B) will be embracing and utilizing mobile and social media channels to try to gain (or reestablish) market share.
It's another exciting era in the world of technology – especially if you are an organization that embraces change and the opportunities presented.
So how can you take advantage of this significant trend? First, you have to pay to play – but probably not as much as you think. Unlike the 1990s and the initial growth of the Internet when creating web-driven businesses required vast technical knowledge and financial resources, there are numerous cost-effective solutions to explore – whether its creating an app, mobile-ready version of your website or a social media presence. Depending on your resources (and ambition) you can create your own apps, build a significant social media audience and sell your products/services on Facebook.
And of course, you don't have to go it alone. There are digital marketing agencies and companies that can help you develop a strong strategic plan, ascertain your top priorities (depending on your situation) and then develop, launch and manage effective integrated marketing programs to address this new world.
But believe me,  you can't afford to ignore this trend.
Related
Tags: digital marketing, internet marketing, mobile content, Mobile Marketing, smart phones, Social Media
Calendar

Links

Categories

Archives